We noticed something strange in this recently article on total Alexa skills by country: There are 3 times as many skills in the US skill marketplace (70 729) than the Australian skill marketplace (24 651). This huge discrepancy is especially strange because sharing a skill to the Australian marketplace is as easy as checking a box during the certification process. Why doesn't the Australian skill marketplace have nearly as many skills as the US?
Alexa became available in Australia in February 2018, when the US marketplace had around 26 000 skills. There have been (we'll be rounding these numbers) 45 000 skills released since the Australian market launched, so why are only half of them there? Our data suggests there are little under 10 000 flash briefings in the US marketplace. Flash briefings seems to only exist in one marketplace, so we're down to 35 000 potential skills for the Australian marketplace, still 10 000 skills unaccounted for.
Our base hypothesis is that most skills in the Australian marketplace would also be in the US store. To test this hypothesis, we looked at the top 3 English-language marketplace distributions for US and Australian skills.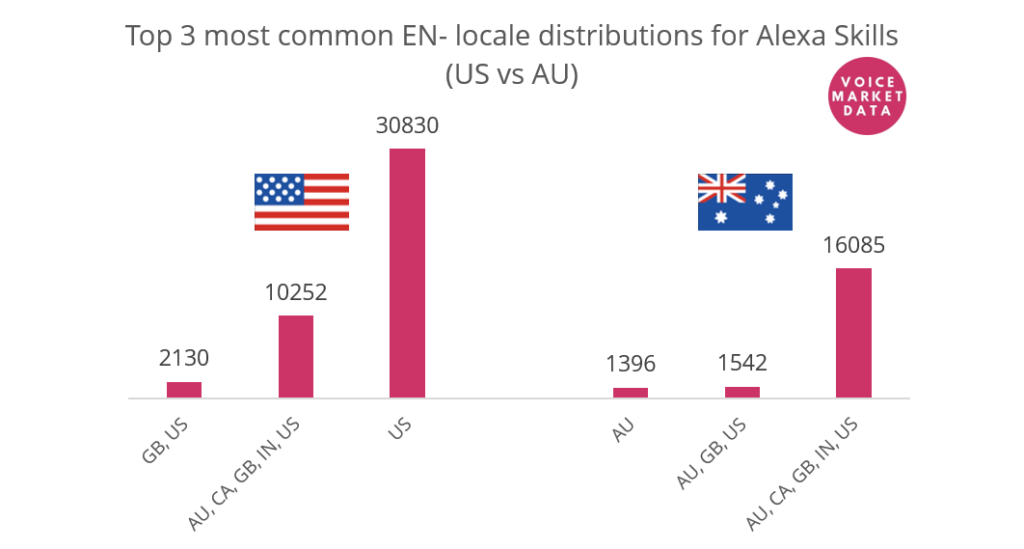 On the left, you can see that in the US marketplace, most skills are only published for the US. This makes sense if you figure that most of the 26 000 skills published before February 2018 (before the Australian marketplace) were never updated by their developers, so they were never made available anywhere else.
Looking at the Australian breakdown, we see that most skills are not Australia-exclusive. The 1 400 Australia-only skills contain around 1 000 flash briefings, so you're left with roughly 500 Australia-only skills, which is reasonable.
Wait what?!
Let's back up for a minute. The US marketplace has 10 000 skills available in all English marketplaces while Australia has 16 000… This number should be the same across marketplaces. A skill that is available in Australia and the US should obviously exist in both marketplaces. The number of skills with the same locale distribution should be identical in those marketplaces. But it's not…
Digging deeper
We used our database to compare the skills available in all English markets on the US marketplace with the skills available in all English markets on the Australian marketplace. Here is what we found:
The Australian marketplace has 5293 skill that are not on the US marketplace.
The US marketplace has 275 skills that are not on the Australian marketplace.
For example, the Stitcher skill can only be found on the US marketplace (left). It can't be found in the Australian marketplace (right) though it says it's listed there.
If you're developing skills for an international audience, it's probably worth double-checking that it actually publishes everywhere. But more importantly, why aren't skills showing up there they should be? Any ideas?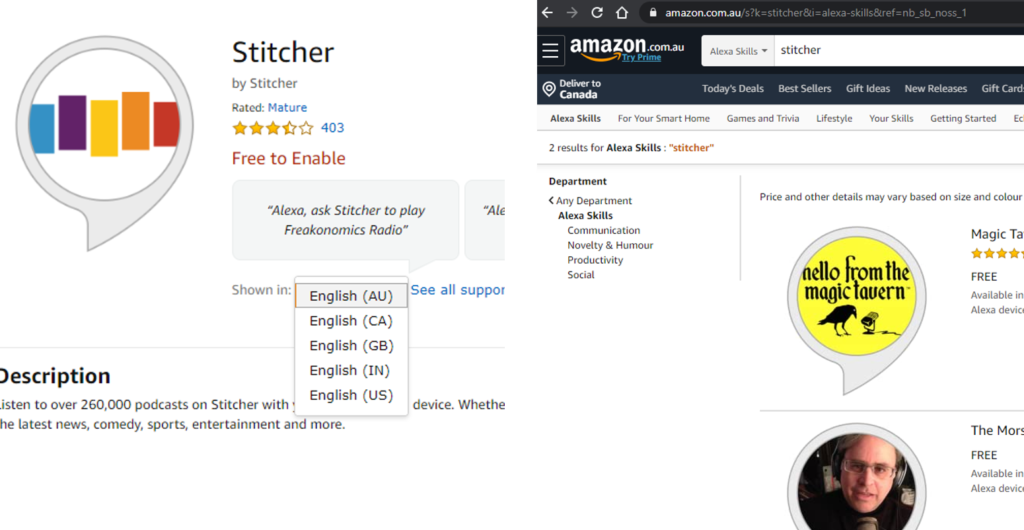 ---